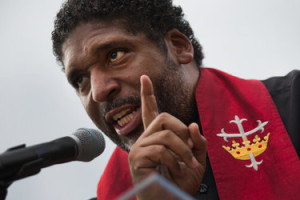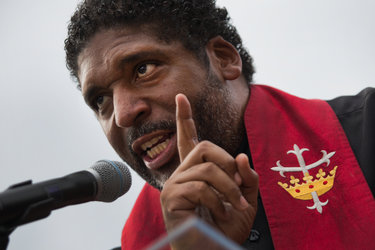 INTERRUPTION!
This musical performance project will be presented in a theatrical setting. Reddy will compose and conduct the music. Poet, saxophonist, and visual artist Oliver Lake will write and perform the libretto. The title and premise of the piece is taken from a sermon that the Reverend William Barber II gave on July 12, 2015 on the eve of the North Carolina NAACP vs. McCrory trial in Winston-Salem. The suit was brought by Reverend Barber, the League of Women Voters, a group of college students, and the Department of Justice. When the U.S. Supreme Court struck down Section 5 of the 1965 Voting Rights Act in 2013, several states made sweeping and draconian changes to their election laws. Such legislation resulted in hundreds of thousands of Americans being effectively denied access to the voting booth. Reverend Barber's sermon called attention to these deliberate attacks on the lives and voting rights of Americans. Citing Isaiah 58: "Cry Out Loud, don't hold back, interrupt the nation," Barber exhorted the over 10,000 protestors gathered outside the state capitol, their allies, and the many who watched events unfold on the news to engage in what he called "necessary interruption." "The reality," Reverend Barber explained, "is…that the nation needs interruption, particularly when liturgy or parliamentary procedures become a cover up for injustice." His call to action was not limited to voting rights. All injustices—including police brutality; capital punishment; and discrimination against the LGBTQ, Native, and immigrant communities—demand attention. Reverend Barber ended his sermon with this declaration: "My job, your job, is to interrupt! INTERRUPTION! is how Reddy and Lake will take up Barber's challenge. Through their respective disciplines of jazz/contemporary composition and spoken word, they will use performance to interrupt social and political hierarchies that have long perpetuated a multitude of injustices in the United States.
INTERRUPTION! was awarded a 2016 MAP Fund grant, a program
primarily supported by the Doris Duke Charitable Foundation with additional funds from
the Andrew W. Mellon Foundation, MAP is an affiliate program of Creative Capital.
INTERRUPTION! was awarded a BRIClab residency & the project will be in residence there from April 3 – 14, 2017.
INTERRUPTION! was conceived & created by Rob Reddy
Composer & Conductor – Rob Reddy
Librettist & Performer – Oliver Lake
Dramaturg – Meg Araneo
INTERRUPTION! Orchestra:
Clarinet/Bass Clarinet – Sam Sadigursky
Alto/Soprano Saxophone – Nick Mazzarella
Tenor/Soprano Saxophone – James Brandon Lewis 
Baritone Saxophone – Lisa Parrott
Trumpet – John Carlson, Eddie Allen
French horn – Marshall Sealy 
Trombone – Curtis Fowlkes
Violin – Charlie Burnham
Cello – Christopher Hoffman
Guitars – Brandon Ross
Vibraphone – Bryan Carrott
Double Bass – Dom Richards 
Drums/Percussion – Pheeroan akLaff
---
Citizen Quintet
This is Reddy's compositional take on the instrumentation of the Jazz quintet and reflects some of the most open, free blowing music in his repertoire. That openness is juxtaposed with Reddy's composed music. The relationship between improvisation and composition has been a long-time fasciation for Reddy. Citizen Quintet presents hard-hitting yet intimate music made by Reddy and four of his most often-seen cohorts with a twenty-plus-year history of making music together.
Citizen Quintet will head into the recording studio in July 2016 to record new music that will be released in September 2016.
Rob Reddy – saxophones; John Carlson – trumpet; Brandon Ross – guitars; Dom Richards – double bass; Pheeroan akLaff – drums
---
Where's Marilyn? 
"Where's Marilyn?" is a musical and visual portrait of the Kings Park Psychiatric Center, a former state-run institution on Long Island that operated from 1885 until 1996. As the hub of the composer's hometown, it shaped many generations of Kings Park residents. Reddy was born and raised in Kings Park. His mother worked as a nurse in the hospital for over twenty years, and he and his five older siblings regularly interacted with patients who would often come into the Reddy family-run deli in the center of town. (This was most common in the early to mid 1970s when rules about patient movement on and off hospital grounds were more liberal than in later periods.) One specific encounter Reddy had with a patient always stood out in his memory. One summer afternoon in 1974, Reddy, eight years old at the time, was playing the piano in his family home when a patient, partially clothed, burst into the house crying out, "Where's Marilyn? Where's Marilyn?" The clarity of the event and the impact it made on the young Reddy is what inspired this project. This project is essentially about memory. While it takes as its starting point this event from Reddy's childhood, it spans out to something much more. It shows not only how memories conflict—how different people record events in all sorts of ways—but also how those memories together are what really make up the fabric of a town, a community.
Rob Reddy – saxophones; Christopher Hoffman – cello; Marvin Sewell – guitars; Ron Caswell – tuba; JT Lewis – drums
---

Bechet: Our Contemporary
Rob Reddy's Bechet: Our Contemporary is an ensemble whose repertoire is based on the legacy, life and music of the American soprano saxophonist, clarinetist and composer Sidney Bechet (1897-1959). The ensemble's initial recording (which was released on  September 11, 2015) intertwined four of Sidney Bechet's original compositions with four of Reddy's. The work is an homage to the great Bechet but in no terms a "repertoire" or "nostalgia" piece. Reddy received a Chamber Music America New Works Commission in 2015 to compose new music for this ensemble. This new work will feature only original compositions by Reddy, but ones which take Bechet's work as their point of departure. They are inspired by the tenacity and vitality of Bechet's legacy. Reddy sees this project as an honest and respectful attempt at honoring Bechet's place in history as a seriously forward-thinking, avant-garde artist of his time, while also putting his work into conversation with our own, present-day sociopolitical landscape. This new work will be premiered in Fall 2016 with subsequent performances to follow.
Rob Reddy – saxophones; John Carlson – trumpet; Curtis Fowlkes – trombone; Charlie Burnham – violin; Christopher Hoffman – cello; Marvin Sewell – guitars; Dom Richards – double bass; Pheeroan akLaff – drums 
---