August 5th, 12th, 19th & 26th
From 1996 to 2007, composer/saxophonist Rob Reddy was one of the most prolific, acclaimed and consistently active musicians on the adventurous New York scene. With an extended family of more than a dozen of the scene's finest musicians comprising four distinct groups, a succession of commissioned works and 6 highly regarded albums, Reddy was essentially in residence at the Knitting Factory, the central nerve center of the downtown scene. In October of 2007, through a commission from American Composers Forum, Reddy premiered his 10-piece ensemble Tenfold in a month-long residency at Brooklyn's Jalopy Theater – and then pulled the plug on all of it.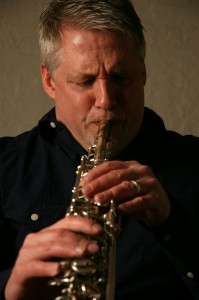 "There was something I had to find" the 46 year old composer explains. "Something inside myself that demanded a new focus, a re-assessment, a new epiphany to reconnect me with what this is all about and why".
For five years Reddy kept writing, practicing and focusing on his next steps. Playing sporadically with his regular associates now and then while curating on occasion, Reddy left Brooklyn and moved to Astoria, got married and began planning his return. It had to be the right time and the right place. He built a team of new business associates in strategic planning and technology, affiliated with a newly forming non-profit corporation as artistic director and began his search for the right venue.
Eventually he met with the folks at the outstanding new performance venue SubCulture in downtown Manhattan's historic Bowery district – just a "stone's throw" from two of the most significant venues of the 70s loft era – Studio Rivbea and The Ladies Fort. With its tagline of "Arts Underground" and its owners' – brothers Marc and Steven Kaplan – intentions to make the intimate, underground space a focal point for the special connection between artist and audience, Reddy knew the search had come to a most successful conclusion.
Appropriately, Reddy will begin the second phase of his artistic journey exactly how the first phase ended – with a month-long residency of Tenfold, every Monday in August. This all-star ensemble, comprised of ten of New York's most dynamic and in-demand improvisers will wail, stomp and jubilate through Reddy's adventurous and celebratory inside/outside compositions. In addition to Reddy on soprano and alto saxophones, Tenfold includes Pheeroan akLaff (drums), Charlie Burnham (violin; mandolin), John Carlson (trumpet), Brandon Ross (guitars), Oscar Noriega (clarinets), Bryan Carrott (vibraphone), Marshall Sealy (french horn), Rubin Kodheli (cello) and Keith Witty (double bass). The music further explores many of the hallmarks of Reddy's most acclaimed projects including co-existing melodies, alternating through-composed and improvised movements, and the influence of genres ranging from gospel, blues, country, modern rock, and traditional to avant-garde jazz.
For those who remember or those just new to his work, Reddy's previous ensembles – Honor System, Sleeping Dogs, Gift Horse and Quttah – are all contained within Tenfold. They will merge and emerge within the new context of Reddy's music during these performances. In addition to the brand new music that Reddy has created for Tenfold, there will be some re-imaginings of past works, including an adaptation of his stunning Mingus-reminiscent God Damn, originally composed for a 19-piece ensemble as part of his major work, The Book of the Storm. There will also be a major premiere of an extended work, Double Blasted, inspired by an episode of NPR's Radiolab about a man who survived both atomic bombs dropped on Japan during World War II. Every Monday night will be uniquely conceived, so the serious fan and listener will want to experience each event. All performances are planned to be fully documented on audio and video in the highest quality standard.
Both Reddy and SubCulture view these events as part of what will hopefully be an ongoing series of Monday nights. Building upon a tradition that has been a part of the New York club scene going back to when Sun Ra held his celestial court at Slugs' and Thad Jones and Mel Lewis celebrated every Monday at the Village Vanguard, continuing through Maria Schneider's Big Band residency at Visiones and the Mingus Big Band's longstanding series (presently at the Jazz Standard), Rob Reddy's Tenfold will add another chapter to that storied history.
This is just part of the new vision of Rob Reddy. His future plans include a curated series of other outstanding New York artists, developments of his new ensembles, Tales of Virtue and Vice and All You Can Eat, and new works for quartet, quintet, sextet, octet and 19-piece ensemble.
For more information about these events contact Vera Sheps: vera @ twoshepsthatpass.com
SubCulture is a new venue bringing eclectic yet accessible music and creative arts performances to the vibrant NoHo neighborhood. A home away from home for those who love art in all its many facets, the venue plays host to a dynamic range of performances, genre-defying music series, and stimulating cultural presentations. With its intimate and evocative space, SubCulture was designed to put the focus on performers and their craft, producing a unique connection between artist and audience.
Ultimately, SubCulture is a place like no other in the city — a subterranean music-and-arts oasis hidden beneath the streets of New York.